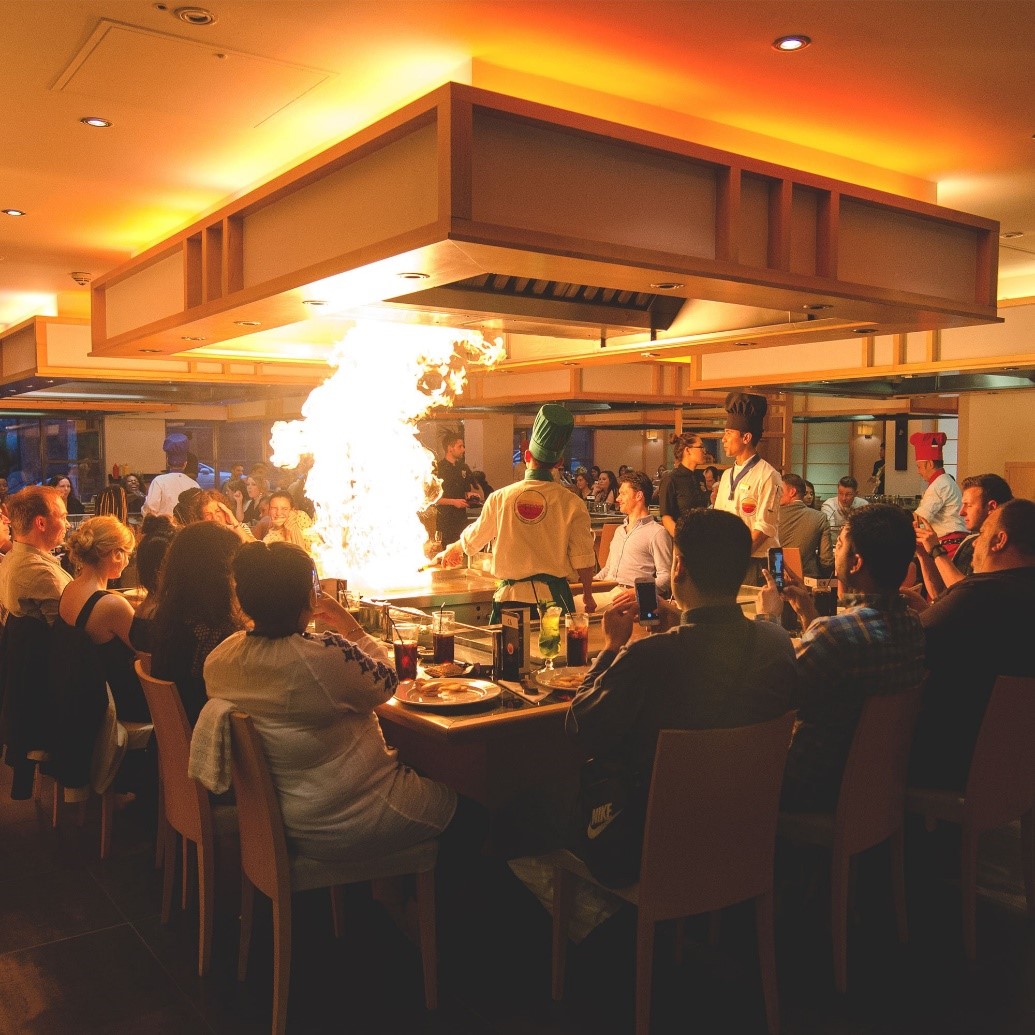 Please note that due to the dynamic nature of COVID-19, this policy is subject to change, last updated Monday 29th June 2020.
The Sapporo family are looking forward to welcoming you back. We have been missing you!
We have been working hard to ensure that we re-open with all of the hygiene, social distancing measures and government advice in place to ensure you feel confident returning to dining at Sapporo Teppanyaki – we want you to fall in love with dining out all over again!
OUR TEAM MEMBERS
We emphasise that we have an extensive policy in place for all team members to ensure that they are safe and that they follow all necessary health & safety and hygiene procedures to minimise risk of infection. We have your health and well-being at the forefront of our operation. We have implemented measures including but not limited too
Daily temperature checks

Provision of PPE


Extensive deep clean procedures
THE EXPERIENCE
You will find aspects of your teppanyaki experience has had to change in order to accommodate all of the safety measures needed as we emerge out of lockdown.
But you will still find the same warm welcome, the familiar faces, and the fire and theatre of teppanyaki.
BEFORE YOU ARRIVE
Any guest entering Sapporo, and any family with whom you live, must be symptom free.
The main symptoms of coronavirus are:

a high temperature

a new, continuous cough – this means coughing a lot for more than an hour, or 3 or more coughing episodes in 24 hours (if you usually have a cough, it may be worse than usual)

a loss or change to your sense of smell or taste
You will need to make a reservation with Sapporo Teppanyaki. At this time we are unable to accept walk-ins from the public. By booking a table at Sapporo Teppanyaki you agree that your party are from no more than two households.
Seating times are controlled through our reservation system (BOOK HERE) and you can make a reservation through our web site.
ARRIVAL

We ask that you arrive at the time of your reservation and not to arrive early or late wherever possible. Upon arrival you will be shown straight to your table, unfortunately we can't allow you to visit the bar but our team will of course be on hand to take a drinks order and grab it for you!
We have laid out a one way flow inside of the restaurant to be followed at all times by our team members and guests. There will be hand sanitiser available at the entrance that we encourage all to use on arrival, as well as sanitising points available throughout the restaurant.
Please stand 1 metre away from the reception desk. A member of the team will show you to your table, due to the shared dining experience we have had specialist screens manufactured in order to enforce a 1 metre social distance between dining groups.
Your table will not be set upon arrival, once you are fully seated, cutlery and plates will be brought to the table in order to minimise the risk of cross contamination.
We will ask you to take any coat you are wearing to your table. We will be unable to hang your coat in our cloakroom.
We recommend that payment is made via card or contactless methods where possible
 SOCIAL DISTANCING

What do we mean by social distancing?
Prior to your arrival screens will be laid out so that, when seated, each group is a minimum of 1 metre away from the next party.
We will keep to the 1 metre rule at all times that are completely practical. However, in order to serve our customers, we will have to recognise that 1 metre is not always possible, ie pouring wine, serving dishes. In such cases, staff will not stay near the table for longer than strictly necessary.
AT THE BAR – We will take your order from your booth/seat. The bar will be socially distanced prior to your arrival.
AT YOUR TABLE – A menu will be on the table ready. One side is the food menu, wines on the reverse (the menus will be wipeable). All napkins are now disposable. Cutlery and condiments will be provided to your table once your order has been placed.
TOILETS – We have installed an hand sanitiser outside of the ladies and gents for use prior to entry into the bathrooms. Our sinks hand hand dryers can all be operated hands free. We have also installed antibacterial wipes in the bathrooms that we kindly request you wipe the sink and toilet seat prior to departing the cubicle to be disposed of in the bin. This will greatly help to cut down on cross contamination between users.
TAKING PAYMENT – You will pay via credit card machine which will be wiped down between uses with an antibac wipe and there is hand sanitiser on each table.